Book Two Guest Illustration by Mari Costa!
Posted August 1, 2017 at 7:40 am
You may have heard I'm running a Kickstarter to print Monsterkind Book Two! The Kickstarter is 100% funded, and we're now working towards unlocking a few stretch goals (we're very close to hitting our second stretch goal!). There are only about 9 days left to pledge!
I've been incredibly busy with Kickstarter work over the weekend, so I'm using today's update to feature one of the six beautiful guest illustrations that will be in Book Two!
-
The lovely and wonderful Mari Costa has bestowed upon me this beautiful gift of an illustration that I can't wait to have in my book! I mean, seriously. LOOK AT HOW CUTE AND COLORFUL EVERYONE IS!! This picture is a treat for the eyes and soul.
Mari is the creator of one of my current favorite comics on the web, "Life of Melody":
Life of Melody is an ongoing short(ish) webcomic about a fairy godfather and a beast raising a child they found in the woods together.
If you enjoy cute fantasy/slice-of-life, gay romantic comedy, you will absolutely fall in love with Life of Melody-- that is a 100% Taylor C. guarantee. I'd be willing to bet if you like Monsterkind, you'll like Life of Melody too!
There are currently over 100 pages to read over on Mari's Patreon. You only have to pay $5 to get access to the entire backlog, and trust me, that's $5 well spent.
And hey, if you're a "try before you buy" kind of person, you can read the first 7 pages of Life of Melody right now for free!
-
If you don't have the means to throw some money Mari's way, you're in luck! She also has a totally free to read and equally cute, cozy comic called Peritale!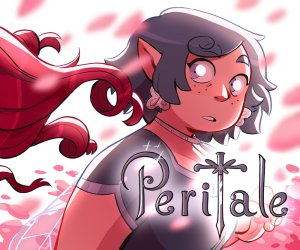 Peritale is a comic about an outcast fairy named Periwinkle who possesses no magical ability trying to prove herself by becoming a fairy godparent.
Peritale currently has over 200 free-to-read pages, and I highly recommend diving in ASAP! It's a very nice read and "cozy" is definitely the best way to describe the feeling I get from reading it. Mari's art (if it wasn't already super obvious), is gorgeous, cute, and incredibly pleasing to look at.
Go support a wonderful artist and maybe get yourself a new favorite comic to read in the process!
-
Other places to find Mari Costa:
Twitter - - - Tumblr - - - Patreon - - - Store
Comics by Mari Costa:
Peritale - - - Life Of Melody - - - Short Comics
--
Have a great week!